訂正:2008/09/05
「テロ防止のためウイグル人パイロットは飛行禁止」、誤報認め謝罪―英紙
http://headlines.yahoo.co.jp/hl?a=20080904-00000011-rcdc-cn
2008年8月24日、英紙タイムズは「テロ防止のため五輪期間中にはウイグル人パイロットは飛行禁止とした先日の記事が誤報であった」として謝罪した。9月3日、中国新聞社が伝えた。

8月18日、タイムズは「ウイグル人パイロットの飛行禁止」との記事を掲載した。23日、中国民用航空総局は同紙の中国代表と会見し、「記事が取り上げたウイグル人パイロット3人はいずれもパイロットとしての職務を継続している」と反論、「記事は中国民間航空会社の名誉、ウイグル人パイロット、そして中国の国家イメージと民族の関係を傷つけた」として謝罪を求めていた。

抗議を受けたタイムズは誤報を認め、「非常に申し訳なかった」と謝罪の言葉を述べた。その上で同紙ウェブサイトに謝罪記事を発表している。(翻訳・編集/KT)
Times Online / August 24, 2008
"Grounded" Uighur pilots still flying


http://www.timesonline.co.uk/tol/news/world/asia/article4599459.ece
Despite anti-Chinese unrest among Muslim ethnic Uighurs, China says its three Uighur pilots are operating normal flights and have the full confidence of the aviation authorities.

China's westernmost Xinjiang region has been increasingly troubled in recent months by attacks by members of the Turkic-speaking Uighur minority against police and government offices. Three of the attacks appeared to be timed to coincide with the Olympic Games in Beijing that close today with a handover to the next host, London.

Xu Li, spokesman for China's aviation authority, said Aikebaier Maimaiti and Ailiyiming Niyazi were serving as captains for the Xinjiang branch of China Southern Airlines and were among their most trusted pilots. He said: "They have received training both in China and overseas and if we did not trust them it would not be possible to send them on international flights. This shows our confidence in them."

Aikebaier Maimaiti had accumulated a total of 10,112 flying hours and had flown 514 hours in the first seven months of the year with 36 hours so far in August alone, Mr Xu said. In a report whose rare level of detail from a usually taciturn organisation showed the sensitivity of the issue in China, he said that both pilots flew Boeing 757 aircraft. In addition, Mr Xu told The Times that the Mr Aikebaier had flown to Tashkent and Islamabad in the last few days.

Mr Xu dismissed as baseless a report that the three pilots had been grounded after a Uighur woman attempted to attack a flight between the Xinjiang regional capital, Urumqi, and Beijing in March. The woman from Kuqa had succeeded in slipping through the less rigorous security checks for business-class travellers at the airport in Urumqi. She was then seen acting strangely aboard the flight, state media said.

She was found locked in an aircraft toilet with several cans filled with petrol. The plane made an emergency landing in the northwestern city of Lanzhou in an incident that officials have described as an attempted terrorist attack.

Mr Xu said the aviation authorities had full confidence in both the China Southern pilots. "We really trust Mr Aikebeier and give him much responsibility, so there is no need for him to stop flying for the Olympics."

The country's third Uighur pilot, Dulihong, worked for Xinjiang General-Use Airlines, and his responsibilities included crop-dusting and fire-fighting. He was engaged this month in crop-dusting over the vast cotton fields surrounding the town of Korla on the edge of the Taklamakan Desert.

Mr Xu said: "There is no difference in the opportunities, training and salaries between Han and Uighur pilots." He declined to give exact details of comparisons with other pilots in terms of average flying hours.

China has warned for months that the Uighur separatists posed one of the most serious threats to the Olympics and has revealed the arrests of at least one group it said had been plotting to kidnap athletes and journalists at the Games.

Those warnings were followed by a renewal of violence in Xinjiang on a scale not seen for a decade. On August 4, 16 police were killed in the ancient Silk Road town of Kashgar when two Uighurs drove a truck into their group during an early morning job before attacking them with home-made bombs and knives. Just six days later, a group of about 15 Uighurs attacked several government buildings in Kuqa. Police returned fire, killing eight of the attackers. Two others committed suicide – the first such reported cases in China. A security guard and a civilian were killed by the attackers. Just days later, a group of people armed with knives fatally stabbed three guards at one of the many road checkpoints set up across the sprawling, mainly desert region to maintain security.
Xinhua News Agency / 2008-08-20 09:32:55
Official: All Uygur pilots working normally in Xinjiang


http://news.xinhuanet.com/english/2008-08/20/content_9530934.htm
BEIJING, Aug. 19 (Xinhua) -- All Uygur pilots serving the country's airlines were working normally in China's Xinjiang Uygur Autonomous Region and none had ever been relocated to work for other airlines outside the northwest region.

Li Jian, the Civil Aviation Administration of China (CAAC) deputy director, on Tuesday dismissed foreign media stories that Uygur pilots had been suspended from their jobs as "sheer fake reports."

To date, Chinese airlines have employed three Uygur pilots. Twoof them, Aikebaier Maimaiti and Ailiyiming Niyazi, served as Boeing 757 captains for the Xinjiang branch of China Southern Airlines, while the third, Dulihong, worked with the Xinjiang General-use Airlines.

Aikebaier Maimaiti recently completed a two-way international flight between Urumqi, the capital of Xinjiang, and Tashkent, the capital of Uzbekistan, on Tuesday morning. He told Xinhua in a phone interview, "Since August 1, I have flown 36.05 hours on routes between Urumqi and Beijing, Shanghai, Guangzhou and Xi'an."

On Wednesday morning, he will fly between Urumqi and Islamabad, Pakistan.

Ailiyiming Niyazi told Xinhua he had flown safely for a total of 17,542 hours. Since Aug. 1, he had worked on routes between Urumqi and Hotan, Xiamen, Shenzhen, Zhengzhou and Changsha.

All pilots, no matter whether they were Uygur or Han people, had to work according to schedule. It was normal that sometimes they worked on flights outside Xinjiang, said Zhang Zifang, China Southern Airlines deputy general manager.

━━━━━━━━━━━━━━━━━━━━━━━━━━━━━━━━━━━━━━━━━━━━━━━━━━━━━━━━━
维族3机师被禁飞,疆航班空服员全部汉人
http://www.peacehall.com/news/gb/china/2008/08/200808190646.shtml
(博讯北京时间2008年8月19日 转载)
来源:明报
英国《泰晤士报》昨日报道称,南方航空新疆分公司有维吾尔族机师被当局下令禁飞,报道并指这项安排与新疆最近发生多宗恐怖袭击活动有关。而新疆分公司宣传部冯部长向本报记者表示,维吾尔族机师目前是「正常飞行、正常训练、正常工作」。 (博讯 boxun.com)

多宗恐袭保障安全

《泰晤士报》报道指,由于新疆近期接连发生恐怖袭击,造成多人伤亡,当局为保障安全,目前已对该公司内的3名维吾尔族男机师下达禁飞令,他们最快要到北京奥运结束后才可复飞。

同时,一些维吾尔族的空中服务员,近日被调到其他国内航线,新疆航班空服员全部改由汉人担任。但南航新疆分公司冯部长否认上述报道,并称航空公司的维吾尔族职员工作一切如常,并无改变。
━━━━━━━━━━━━━━━━━━━━━━━━━━━━━━━━━━━━━━━━━━━━━━━━━━━━━━━━━
Pilots grounded as China moves against separatists
http://www.theaustralian.news.com.au/story/0,25197,24198152-2703,00.html
Jane Macartney | August 18, 2008
THE three Uighur airline pilots have been grounded by Chinese authorities anxious to maintain security during the Olympics.

Their removal, along with the switching of Uighur cabin staff to flights outside the troubled Xinjiang province, follows a renewal of violence by Uighur separatists.

Turkic-speaking Uighurs in Xinjiang province who are eager to found a separate state of East Turkistan have launched a series of attacks apparently timed to coincide with the Beijing Games.

On August 4, 16 police were killed in the ancient Silk Road town of Kashgar when two Uighurs drove a truck into their group before attacking them with home-made bombs and knives.
Just six days later a group of about 15 Uighurs attacked several government buildings in Kuqa, on the edge of the Taklamakan desert.

Police returned fire, killing eight of the attackers, while two committed suicide. A security guard and a civilian were killed by the attackers.
Then last week a group of people armed with knives fatally stabbed three guards at one of the many road checkpoints that have been set up in Xinjiang to maintain security.

The order to ground the three male pilots came after an incident in March when a 19-year-old Uighur woman from Kuqa was able to slip through the less rigorous security checks for business-class travellers at the airport in Urumqi, the capital. She was then seen acting strangely aboard the flight, state media said.

The woman was found locked in an aircraft toilet with several cans filled with petrol. The plane, en route to Beijing, made an emergency landing in the northwestern city of Lanzhou. Officials described the incident as an attempted terrorist attack.

A Chinese source with aviation contacts said yesterday: "There are only three pilots in the Chinese aviation fleet who are Uighurs.

"They were all told that they would not be allowed to fly, at least until after the Olympics."

Cabin staff who belong to the Uighur ethnic minority have also been removed from working on flights operating around Xinjiang, the source said. However, they are allowed to work on airliners serving other destinations around China.

Recent travellers to Xinjiang said they noticed only flight attendants of the ethnic Han minority working on flights in the region, but the report could not be officially confirmed. China, which once recruited its airline pilots from the air force, is now facing a shortage as it keeps pace with a rapidly growing economy and an expanding fleet of aircraft.

Latest figures from the General Administration of Civil Aviation, in 2006, showed China has 11,000 pilots and first officers working in 800 airliners.

By 2010 China's fleet will grow to 1250, requiring at least 6500 more cockpit crew.

The Times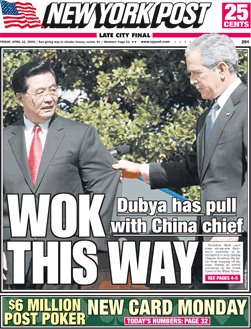 中国関連の文章を転載して、ちょっと考察。中国といっても実際には、まあ、なんというか…。基本的に、中国だいすきです!!          コッソリやってます。そっとしておいてください。
by yaponluq
検索
カテゴリ
タグ
以前の記事
かってにリンク
ウイグル料理ムラト
/e-food
グルパリのホームページ
ウイグル文学館
●
中文博客
看不见的西藏~唯色博客
雪红雪白
●
英语博客
北京烤鸭
一知半解
中国的另一端
Our Silk Road
Xinjiang Watch
Mutant frog Travelogue
●
日语博客
阿修羅♪
中国鉄路旅行記
東瀛論説
ウイグルの生活と文化
テュルク&モンゴル

●
報道・情報
Tibet Album
岗坚霸资料库
チベット史情報室「テングリノール」
ダライ・ラマ法王日本代表部
TIBET SUPPORT     NETWORK JAPAN
Tibetan Photo Project
第十四世達賴喇嘛官方網站
チベット文化研究所
世界ウイグル会議
Uyghur1.com
uyghur.tv
u-tv
新疆画报
uighur.jp(新疆研究室)
日本中央アジア学会
VOA中文
RFA普通话
CRI国际在线
中国选举与治理
Observe China
雅虎网址大全
中国报道周刊
无国界记者
博讯新闻网
→博讯热点
曹長青網站
王力雄作品选编
レコード・チャイナ
ZAKZAK
TBS RADIO ストリーム
ライフログ
その他のジャンル
ファン
記事ランキング
ブログジャンル
画像一覧